The company
As a pure-play B2B platform for mutual funds, attrax provides institutional clients with professional fund brokerage and fund custody, a full range of services and customized advice.
attrax helps you simplify and optimize your mutual funds operations. You save time and, especially, money because attrax enables you to outsource complex processes that incur high fixed costs. Instead, you enjoy the benefits of transparent, standardized mutual funds processing at a reasonable variable cost.
You can rely on attrax as a trustworthy and expert partner that offers a wealth of experience. We provide you with professional and comprehensive support so that you can concentrate on what really matters: your core competences and the development of your business.
Our customized fund processing solutions offer you the maximum degree of flexibility
By outsourcing processes that incur fixed costs, you achieve efficiency gains and contain your costs
You can transfer risk by outsourcing costly and time-consuming processes and reducing complexity
An extensive universe of dynamically managed funds is readily accessible
attrax´s pricing management strategy helps maximize your investment returns.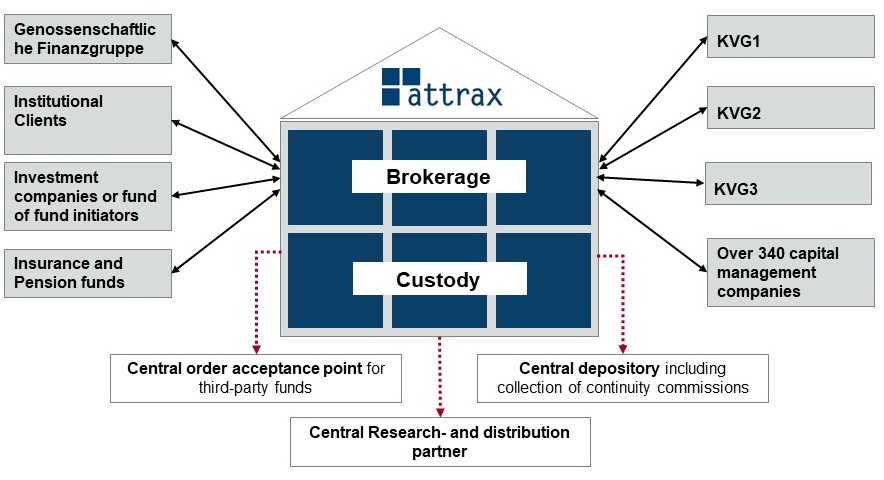 The attrax fund services division offers companies in the Union Investment Group, the Genossenschaftliche FinanzGruppe Volksbanken Raiffeisenbanken and third-party institutions services in the areas of fund administration, back and middle office and custody services for institutional customers.
In addition, the range of services also includes the central activity of the transfer agent for the capital management company of the Union Investment Group. Institutional customers can use the transfer agent to process their share transactions for funds of the Union Investment Group.